Why is candles packaging or designing candle boxes relevant for boosting brand recognition?
Spreading a considerable grade of brand awareness is what all businesses strive for. You cannot be well-established in your consumer markets unless a great number of customers know of your brand and feel persuaded to buy your products.
As many purposes the candles serve, the packaging also caters to multiple branding tasks:
Educates the consumers of your brand image.
Addresses the gap in the markets and appeals to that specific customer group.
Leads the market with innovative packaging styles.
Let the buyers be aware of their purchasing options by informing them of the candle variations available.
These are just some of the many tasks that effective packaging of candles provides their manufacturers. On top of this, customization adds more character and in-depth knowledge of the products, making it hard for viewers to resist your candles. What makes this even more impactful?
There are several intrinsic characteristics of good packaging that, when imbibed in your candle boxes, escalates them to appeal to a higher percentage of customers.
One: Sharper graphics
Candles are visually captivating products. Thus, the boxes in which they are presented must complement this. You must have purchased candles in boxes that tell you specifically of the aroma and color of the candles packaged by displaying convincing illustrations on the boxes. This helps to attain the following:
Giving a true picture of what to expect from the products.
Alluring customers by employing interesting patterns and graphics.
Enabling the candles to look better than rival brands
Humans are attracted to everything that has a strong visual effect. Customers have a lot of candles to choose from. So, how do they choose yours? The boxes made of enticing patterns and colors make the boxes more visible to the target customer. Cutting through such packed markets needs an extra edge. Captivating graphics and pictures can provide your brand with that.
Customization offers a lot of scopes to include an array of features into your packaging. So, be it embossing your brand name with improved effects, multiplying impact through stunning foil stamping, laminations, and coatings, all can be achieved with the inclusion of personal touches to your boxes.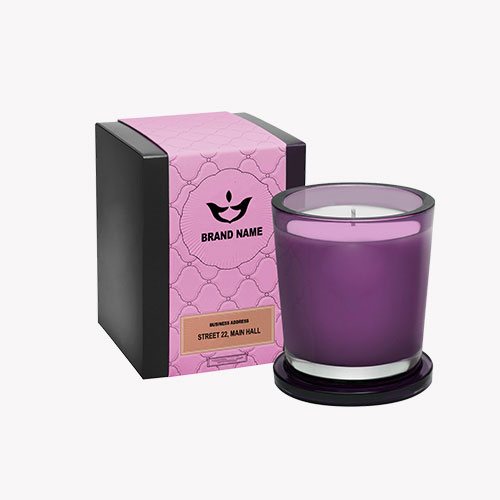 Two: Invigorate brand image
Whether you are just starting in the candle market or are already running a business, the importance of relevance cannot be denied. This means that your customers must be given a brand image that they can't turn away from!
From refreshed brand logo to new & improved boxes, such additions can get you your desired results within no time. Customers always want to buy products that are premium and look above the ordinary. This is because of a sea of candle choices to pick from. Also, clients look for bargains that offer them effective value for their money spent. Giving them just that with customized and engaging candle packaging can work well in your favor.
The brand image is what customers remember for a long time. It would be the only feature you would retain of your favorite brands. The logo and the way the brand title are displayed makes all the difference. Buyers, while shopping, come across products that convince them to buy them without giving a second thought. Your boxes can also impart such effects when they contain interesting add-ons and creatively placed logos.
If you don't possess natural artistic elements, do not worry! There are professionals who can swiftly guide you through this tedious process. Modern printing technologies have enabled the boxes to be crafted just as you want and within a short printing time.
Three: Reciprocate customer demands
Catering to customer needs is the lifeline of any business. Your brand stays in demand for as long as you provide the customers with relevant materials. This is not just limited to the products themselves; a lot of external factors influence the purchase levels of your candles. Buyers encouraged to buy from your brand if:
The items are what they need, Candles are high on everybody's wish list for all occasions. Thus, operating in this market would mean more vigilance in producing the right items.
Showcasing the true and varied uses of candles.
The boxes making the candles look better than the other options. Candles considered as luxury items that come in affordable boxes. Giving buyers a good feel about them can end up in high sales numbers.
Capture their attention instantly and make them impulsively add the candles to their shopping baskets.
You can just imagine the positive effects on your profits when your packaging attains these. Surveys suggest that the outer packaging is the most important factor that leads to clients buying a certain brand more. Influencing their decisions through the packaging can work effectively with your budget too.
The candle boxes are not as expensive as you might have thought. They come in all forms and materials. Custom corrugated boxes, folding cartons. Display boxes are some of the many options available to pick from.
Four: Aptly place the candles for better hold
Candles are sensitive items. They easily affected by heat and can break with shocks.
Customers expect their candles to come out of the box in a pleasant form. Damaged candles get a thumbs down from the customers who would then switch over to the next best brand for their future purchases. There is a list of things that matter the most where customer satisfaction is concerned. Good candle condition tops that list coupled with a good unboxing feel.
Including personal messages and apt marketing material can boost sales and brand loyalty. Both of these are crucial elements to sustain durable growth. Your brand is perceived to be as good as the packaging. So, aligning them can create a compelling brand story that clients can retain easily.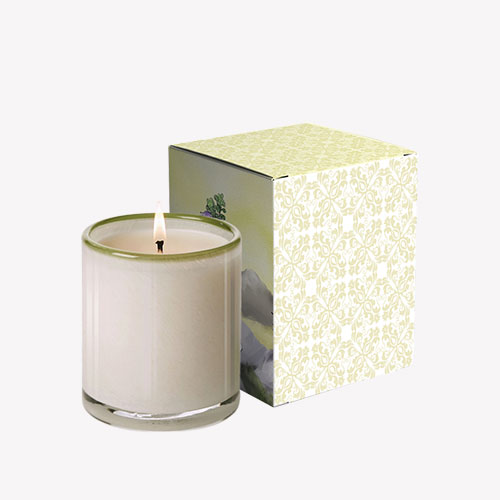 Conclusion
Candle packaging is an asset that fuels more interest in your products and brand. It helps to strengthen the customer base and make them loyal for life.