Many users ask us to suggest some alternative ways to Export Calendar from Outlook Mac simply. They search for various alternatives but for this task there is no short or simple method used, you have to go for a lengthy manual process. Or to avoid this, we have the Ultimate Tool that can help you solve the problem easily. People try to save Calendar from Outlook for Mac account to ICS format i.e., iCalendar which enables you to share, export, or import calendars over the web or on email.
ICS format is generally used to import it to other alternative email services like Google Calendar, Apple's Calendar, Mozilla Thunderbird, etc. As it offers you a standard file format that enables you to easily share stuff over the internet conveniently. This file extension stores all the items you will generally find in the normal calendar but in a plain text format hence it can be thus used on multiple emailing platforms and web services. Therefore, people for their easier accessibility want to Download Outlook for Mac Data locally to the Mac.  
If you are one of the users who is searching for this, then you are in right place. We will provide you with reliable and trusted ways to Export Calendar from Outlook Mac.
Manually Export Calendar from Outlook Mac
Follow the below-mentioned steps to Export Calendar from Outlook Mac: –
Start Outlook for Mac and Select Calendars
Now Select a calendar file and perform "drag and drop".
Drop the files to a preferred location
Repeat the steps to save all the calendars.
Loopholes in the Manual Method: Here are some of the major issues regarding the above Manual Method: –
As the process might seem simple at first, but one must perform the steps again and again to save multiple calendar files. What if you have more than 100 Calendar files to export.
Therefore, I have come up with a tool to export calendar from Outlook Mac after testing.
Export Calendar from Outlook Mac – The Efficient Wizard
To overcome the above-mentioned loopholes, you should find the other methods. We have come up with the most exotic tool which can easily sort your problem in few minutes only. OLM Converter is the tool that can Export Calendar from Outlook Mac easily and to ICS format effortlessly. It not only exports the calendar to ICS format but also you can export it to different email clients like Thunderbird, Office 365, Gmail, etc. A tool is standalone software that doesn't require any other applications to be installed. 
The software preserves and maintains the folder's hierarchy and gives you 100% results with accuracy. Besides this, the tool offers 2-modes to upload your Outlook OLM files to export them to ICS file format. The software is also user-friendly and enables novice users a smooth experience.
Procedure to Operate the Tool
Guide to Export Calendar directly from Outlook
Here are the following steps to follow to run the software: –
1. Start the application, MacUncle OLM Converter on your Mac System.
2. Now upload the OLM files you wish to export to ICS file format using the Add file (s) or Add folder (s) options.
3. Now select the Saving format from the Saving Option i.e., ICS from the list.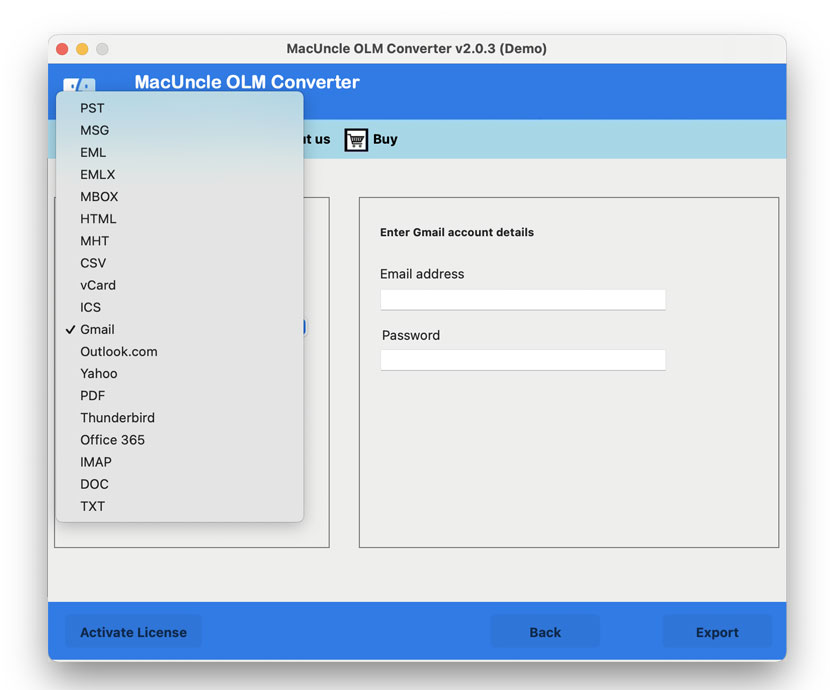 4. Then select your desired Destination path from the Select Destination Path.
5. Then name the file using the File Naming Option.
6. Then finally click on the Export button present on the software.
You will then receive notifications after exporting calendar from Outlook for Mac.
Reasons why you should choose this Pro Wizard?
Here are the top features of the tool which can make your experience even smoother: –
The wizard has a coherent GUI and enables you an easy and smooth experience.
The wizard offers you dual-mode to upload the OLM files to export them to ICS format.
The OLM files will be exported to ICS format with all the intact materials including the attachments.
The tool comes with flexible options of file naming conventions, destination location, filter options, etc.
The Wizard supports all the latest versions of Mac OS like 10.9 Mavericks, 10.8 Mountain Lion, 10.13 High Sierra, 10.12 Sierra, etc.
Wrapping up
The blog clearly shows you the 2-methods to the export calendar from Outlook Mac. The Manual Method shows you the lengthy steps to follow to export Calendar from Outlook Mac, to overcome this we have OLM Converter. This utility converts OLM files to ICS format easily in few steps only while you can also export files to different email clients. The utility preserves and maintains your data and ensures 100% safety. 
Also Read: How to Speed Up A Slow Mac or MacBook