The experienced players of Destiny 2 know that they can seek the help of merchant Xur. He makes an appearance with special items every Friday. But sometimes it is not clear how you can find him. But here we have a map that will help you to find Where Is Xur and Xur location. You can also see the list of his wares. Therefore know where Xur Destiny 2 is here.
Who Is Xur?
If you are a new player of Destiny 2 and want to know who he is then you are in the right place. He is a special vendor who sells exotic armor and weapons. Also, he comes each week to the solar system with a collection of goods. He has all the items suitable for the respective character classes. For instance, in Beyond Light he has the stock of items called as Five of Swords. He also provides the quests to use old and exotic weapons.
Where To Find Xur from July 2-10?
The main trouble is that it is hard to find Xur. The Xur location is easy to know once you know his timings. He will appear at the daily reset at 10 a.m. PT/1 p.m. ET every Friday. At first, his location was marked on the map but afterward, it is not marked. That is why it is harder to find.
This week you can find Xur in the Tower over in the Hangar. You can find him on the right side of the map under the Future War Cult. Then you go to the northern edge of the map and the flight of stairs. At last, you will find him hanging out right on the first staircase.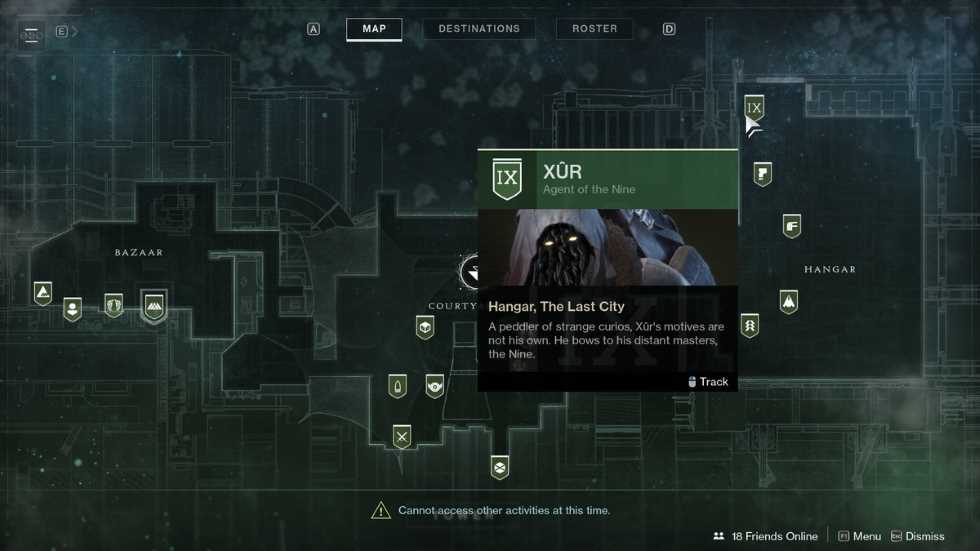 What Are the Wares?
Some of the wares available this week will be The Huckleberry – 29 Legendary Shards, Chromatic Fire (Warlock) – 23 Legendary Shards, and Knucklehead Radar (Hunter) – 23 Legendary Shards, Exotic Cipher Quest — Xenology, and Antaeus Wards (Titan) – 23 Legendary Shards. Therefore collect these items from the merchant Xur and upgrade.
Conclusion
If you find the Xur merchant this week then do not forget to buy items from him. Then you can upgrade with the latest items. 
Also Read Dragon Age 4 Trailer, Story Teases, And Everything Else We Know So Far