What will happen if you are working on an urgent task on your computer and suddenly the operating system went down due to viruses or any other issue? This scenario can happen with anyone who is using a computer or laptop. Nowadays, hardly people like to empty their wallets in the computer repair shop for these kinds of problems. Those days were gone when you have to rush a computer shop for every issue and wait for days to fix it.
Windows manufacturers are providing the solution in such issues but you just need to figure out how. This article is written by keeping in mind the same kind of problems. Here, we will let you know systematic details to get your windows back in your computer without taking it to the shop.
In case of operating system corruption when you need the whole step clean and re-install again, you must need set-up outside your system. Creating a bootable Windows 10 in DVD or USB drive is the very handy and easy solution. You can install the Windows 10 operating system from this bootable file within 1 hour. To create a 32-bit Windows 10 bootable file 4 GB size USB drive should be fine and for 64-bit Windows 10, you need a minimum 8 GB size USB drive.
The whole step is mainly divided into 2 processes that are the following:
A. Downloading Window 10 ISO file
To start the process, first, you need to get the ISO file of the Windows 10 operation system stored in your machine. IOS files are the exact copy of any files that contain all details & logs. You can download the ISO files from Microsoft website online by using 'Media Creation Tool'. You need to perform the below steps:
1. Open your browser and write the Microsoft web site URL – https://www.microsoft.com/en-us/software-download/windows10to download the Windows ISO file via ''Media Creation Tool'. On the opened web page, select 'Download tool now' button.
2. On selecting 'Download tool now', the system starts downloading the set-up and present a pop-up window. Hit on the 'Accept' option on the pop-up window.
3. Next step, Select the 2nd option 'Create installation media' and hit on the 'Next' button.
4. On the next Window 10 set-up screen, select the language, architecture, and edition as per your choice. If you are not sure then tick the recommended option. After selecting all details, hit on the 'Next' button.
5. On the next Window 10 set-up screen, select ISO file option and hit on 'Next' button.
6. Select the path in your computer to save the Windows 10 operation system .iso file and hit on save button.
7. The downloading process starts once you hit on the save button. The Windows 10 .iso file size is around 4 GB so you need good internet connectivity to download it. Once the process complete, hit on the finish button. You can see the saved .iso file in your location path.
B. Creating Bootable Window 10 in the USB drive
To create a window bootable file in a USB drive using the iso file, you need a 'Window USB/DVD tool'. You can download this tool from the Microsoft website – https://www.microsoft.com/en-us/download/windows-usb-dvd-download-tool. Go to the installation section and click on 'Windows USB/DVD Download Tool' to download it and install it by running it.
Once the Window USB/DVD tool installed in your system, launch it and follow the steps:
1. Open the Window USB/DVD tool and select the 'Browse' button. Navigate to the path where the window iso file saved. Select the iso file and hit on 'Open' button. Once you open the iso file, hit on 'Next' button.
2. Next step, plug in the USB drive to your computer and let detect it by your computer. Now, hit on the 'USB device' option.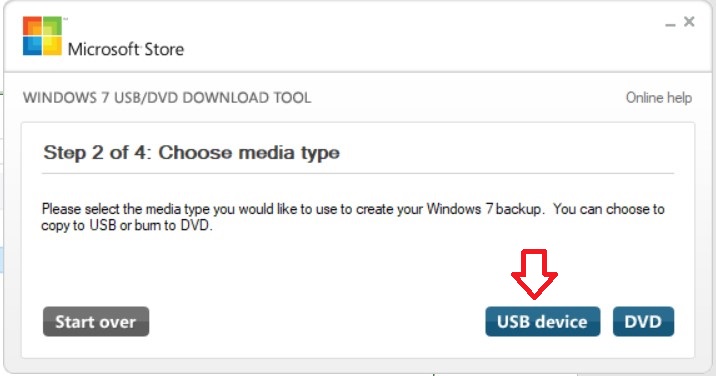 3. It detects the USB drive and then selects it. Now, hit on 'begin copying' button to start the creating bootable file process.
4. If there is a file already stored in your USB drive and taking space then the system will pop-up the alert window to erase the USB drive and format it. It is suggested that you should always select this button as it will format & clean your USB drive so that burning process complete without any corruption.
5. Once the burning process completes the progress bar update with 100% completion. You can remove your USB drive and it is now ready with your Window 10 bootable system.
Creating a bootable USB drive always helpful for you as you can install your Windows 10 operation system anytime. You do not even need any license key separately to load.
If you are already using authenticated Windows 10 and created a bootable USB drive by following all these steps, your product license key automatically mapped into newly backup.