Blockchain wallets store and manage cryptocurrencies. Users can sell and purchase cryptocurrencies and other digital assets using these applications. Users can send requests to received cryptocurrencies using QR codes or unique addresses sent to the senders.
To store cryptocurrencies, traders can utilize both device-based and online cryptocurrency wallets. However, purchasing a device-based wallet can be costlier and highly complex to deploy in real-time.
The process of transacting cryptos on a cryptocurrency wallet might seem identical to a digital wallet. However, the recorded entities would differ from reserve assets in structure and liquidity.
The swapping of cryptos is another mind-boggling feature that creates hype for cryptocurrency wallets.
Software Blockchain wallet can also be of several types such as;
Desktop wallets
Desktop wallets are also called cold wallets as they use the local storage as a cold server. The cold server acts temporarily without an internet connection and allows users to continue transactions. The transactions are recorded when the connection resumes.
Online wallets
Online wallets are called hot wallets for being one of the most popular kinds of Blockchain. This type of wallet is mainly usable over the web and requires an uninterrupted internet connection to execute transactions legitimately. Some online wallets are available in the form of both web and mobile apps.
Mobile wallets
Mobile wallets have also become heavily popular as they can only be used over a mobile phone.
Overview of Blockchain Wallet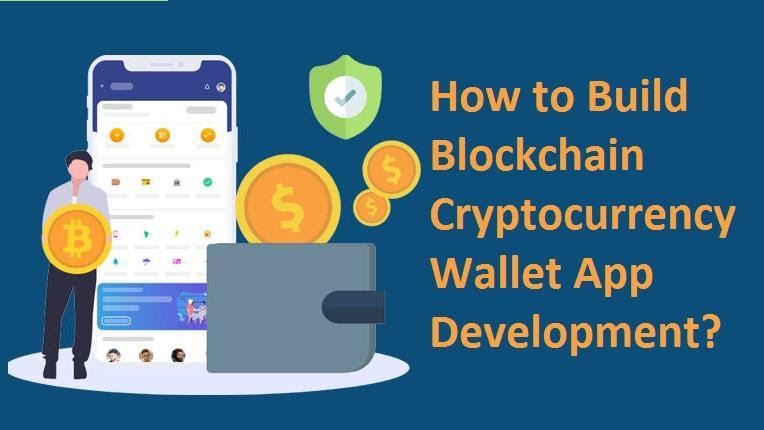 Blockchain wallet should not be confused with Blockchain.com's product 'Blockchain Wallet'.
The crypto wallet offered by Blockchain.com facilitates swapping for six assets Bitcoin, Bitcoin Cash, Ethereum, USD Digital, Stellar Lumens, Wrapped-DGLD, and Tether.
Blockchain wallet charges a per-transaction fee amount called dynamic wallet fees. They call it dynamic as it varies as per the transaction size and network conditions.
How Does a Blockchain Wallet Work
Users have to share their public key with the sender to receive crypto tokens. To send crypto tokens from your Blockchain wallet, you will need the public key (accessible to everyone) and the private key (shared with particular people like passwords).
The Blockchain wallet provides an interface where traders can monitor purchased and sold cryptos. Comprehensive information that includes exchange rates can help traders compare different crypto tokens in one place.
With all those features, developing a cryptocurrency wallet app has become a trend for business enthusiasts all set to step ahead in Blockchain.
So, how do you create a cryptocurrency wallet that brings growth to your business?
Here are the steps;
1. Discovery
In this stage, the cryptocurrency wallet app development company analyzes the potential of your idea and adapts necessary implementations. The developers can visualize the basic architecture of the product to identify the deployable technology stack.
Blockchain is a continually evolving technology, so it becomes essential to keep up with the trends to a competitive product.
If you plan to create an MVP of the product, you can plan the budget accordingly.
2. Design
Comprehensive discovery of the product leads to an impressive and highly personalized design.
Designing allows the developers to conceptualize the software architecture into the product. The more engaging the UI/UX is, the more likely the app will engage more users.
The app designers should emphasize setting the working model of the wallet through the design. It needs to be comprehensive yet not excessive.
3. Development
The development process comprises code implementation to add functionalities, events, etc., to carve a design into a functional product.
There are free libraries and SDK available to create a creative development environment. The code libraries might support a range of programming languages such as Python, PHP, Ruby, C++, etc.
Java can be a crucial option for developing an Android-based cryptocurrency wallet app.
It is the part of the process where you complete your Blockchain wallet with a set of features that make it more personalized, easy to use, and your customers' favorite.
Some of the primary features of a Blockchain wallet are;
Multiple crypto transfer
Security through encryption
Low-cost transactions
Integration of Smart Contracts
4. API Integration
Integration of API fastens the overall development of the cryptocurrency wallet development and engages in a smooth user experience. Distributed ledger APIs allow easy access to blocks, transactions, and state storage across a Blockchain network.
Implementation of APIs streamlines the Blockchain wallet architecture in sync with the crypto wallet.
The primary cryptocurrency APIs are Coinbase, CoinAPI, Bitcore, GetBalance, Bitcointy, and Factom.
5. Quality Analysis
Since the ultimate goal is the smooth functioning of the product as per the client's requirements, the quality team scrutinizes different elements of the products. They accomplish the objectives by running a series of tests in functionality tests, system integration tests, interoperability tests, and user acceptance tests.
6. Deploy
Now that we have a well-designed, developed, and tested cryptocurrency wallet, it is time to deploy it in real-time. You can build a minimum viable product consisting of the most fundamental features that define the core of your objectives.
It can be a win-win deal as you would not need to invest large sums of time and money into the project and still receive and analyze the market results.
7. App Maintenance 
To address any downtime issues, cryptocurrency wallet apps owners can avail themselves of the maintenance services of a Blockchain development company. The application might run over different devices and development environments.
App maintenance allows the wallet applications to sustain and flourish through time. Sophisticated implementation of app maintenance techniques enables business owners to bring progressive results.
Conclusion
As per the Statistics given on Statista, the number of downloads of the top ten cryptocurrency wallets has increased from 1,236,256 in January 2020 to 5,634,548 in January 2021. It shows that the market is growing exponentially, creating numerous opportunities for business leaders striving hard in Blockchain technology.
Another crucial element in cryptocurrency app development is security. Cryptocurrency wallet app developers utilize different security tools and layers such as 2FA — fingerprint, face ID, and hardware authentication.
As the Blockchain infrastructure evolves, the scope of opportunities for cryptocurrency enthusiasts expands further in a positive direction.
Also Read: CoinFlip: Making Cryptocurrency Exchange Easier And More Efficient