Welcome to Technical Guide's Blog, from here you will get a solution to multiple email-related problems. Use the article here to migrate Outlook Mac to Gmail Account Directly.
As per the current situation of the Covid 19 Outbreak, most of us are working from home. As a result, we are communicating through different email services and at some point, get stuck due to some email-related issues. Out of all one of the queries is to export email Outlook Mac to Gmail Account. Thus, let's jump right into the reasons and then the solution without wasting time.
Why do we Migrate or Move Outlook Emails to Google Mail accounts?
Both Microsoft Outlook and Gmail accounts have different features in their own best way. If you compare desktop-based and web-based email clients, it's clear that Gmail comes out ahead. Due to its user-friendly interface and delivers an environment in which user can access their Emails anywhere at any time.
Here are some top-level advantages of Gmail over Outlook
The search bar appears simple, it enables you to easily search through any title, files, or starred emails you have. It's very simple and gives out accurate results.
Other email messages can be sent as attachments in Outlook, enabling the recipient to open them. You can do the same thing more quickly in Gmail by using forwards.
Gmail's terminology can be confusing to Outlook users who are used to it. In Gmail, you can "archive" messages, which functions similarly to the "delete" feature in that it clears the message from your Inbox, but instead of being permanently deleted, archiving adds the email to a private searchable folder.
Mailbox sharing. You can "share" a mailbox with anyone in Outlook. You can do something similar in Gmail; you can "delegate" your mailbox to a specific person or share it with an entire Google community.
All the mentioned above are the most common features of Gmail if you are a newbie to Google Mail. Now let's move to the solution to migrate Outlook Mac to Gmail accounts. As the migration process is not as simple as it seems.
Manual Method to Migrate Outlook Mac to Gmail
Go to the settings button in Gmail.
Then to the See all Settings. There, you will find Account and Import, click on that.
Now select Import Mail and Contacts.
Then, a window with "What account do you want to import from?" will open up. There enter the Outlook email address and press continue.
Again, the press continues to the next window which has some information.
Another tab will open with some information. Click Continue.
Thereafter another window asking for permission pops up, there you have to confirm the process.
Finally, a window with Step2: Import Option, select the required options like Import contacts, Import Mail, etc.
Later all the new emails in Outlook will be automatically sent to the Gmail account.
Migrate Mac Outlook to Gmail Account – An Automated Solution
From the above section with the manual method, it is quite clear that Outlook to Gmail migration needs time and patience. Thus, opting for an automated solution is always a better option.
While searching and testing different email conversion and backup tools available on the internet the one that I got interested in was the Third-party tool, OLM to Gmail Converter. If you have the complete Outlook Data in *.olm format then this is the solution for you. The best part of the application is one can directly migrate Outlook Mac to a Gmail account. The user does not have to sign in or open a Gmail account while performing the task. To convert the email files to other file format formats use the OLM Converter Software.
Get the solution for both Mac and Windows
All you need to do is add the Outlook Data to the software panel and then choose the required email folder after the tool completes scanning. Simply choose the IMAP option from select Saving Option.
IMAP helps you to have complete access to your emails from anywhere. Therefore, the IMAP option here will enable you to migrate Outlook Emails to other email services using the IMAP information such as IMAP port number and IMAP host.
Step-by-Step Procedure
The tool acts as a self-guide by providing the simplest software interface. Still, the following guide will give you a simple insight into the workaround of the application.
1. Launch the tool. Use either Add File(s) or Add Folder(s) to add single OLM files and to add Mac Outlook files consisting of the folder respectively. Then, click the Next button.
2. Select the IMAP option from the Select Saving Option to import Outlook Mac to the Gmail account.
3. Then, set up all the fields such as Email Address, Password, and IMAP Host, IMAP Port, etc.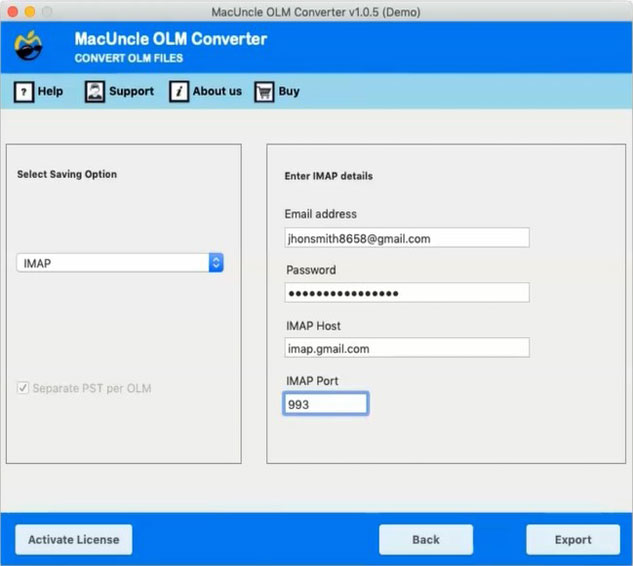 4. And finally, click on the Export button to start the live conversion.
Hold for a few moments for the conversion to complete. And the app will provide you with some notifications and a log document with complete conversion details.
Conclusion
In the article, I have illustrated the procedure to migrate Outlook Mac to Gmail on Mac OS. The method mentioned here is very simple and reliable as compared to the other solution in the market. If you can import complete Outlook data to a Google account, then why move single files at once?
Also Read: How to Import PST Calendar to Gmail: Tips & Tricks