As a handy tool, the USB flash drive is very convenient for saving and transferring data. But many Windows users are facing an error "Problem Ejecting USB Mass Storage Device". What's worse, this error may lead to USB flash drive data loss. How to solve the dilemma?  This error mainly appears when you try to remove the USB device from the computer. Except for your improper operation, some causes may also result in this case. Now, let's see how this error occurs.
What is This Error Message Meaning
In general, this error means the USB storage you are trying to eject is being used currently. As computer can't remove it safely when it is in use, so you should cancel this action before it is ejected by computer normally.

The main reason for this error is that the data on the USB storage device is being opened or used by other programs. Or, the USB storage device is being accessed by the computer system or other programs. In order to protect the device and data in it, the system sends the error "Problem Ejecting USB Mass Storage Device" to stop the unsafe ejection.
Reasons for Error "Problem Ejecting USB Mass Storage Device"
Common causes to this error:
Files in USB may not be totally closed when you intend to eject it.
Some files in USB are currently in use.
Some software may be accessing the USB in the background, such as anti-virus software, Windows security software, etc.
If you force to eject the USB from computer, it may bring about more serious problems, such as the USB not being recognized next time, the USB not being accessed, USB files corruption, USB data loss, and so on.
5 fixes to Error "Problem Ejecting USB Mass Storage Device"
If you are stuck in this problem, don't worry and take a few minutes to go through the rest of this post to find out solutions to solve it. Therefore, please try these methods below to fix "Problem Ejecting USB Mass Storage Device" issue.
Fix 1. Close All Opened Windows and Software
The first thing you should do is checking all files and software on Windows to see whether they are close or not. If not, close them manually, and then try to move the USB safely.
Fix 2. Take an Anti-virus Scan on Your Windows 10 Computer
If your computer is infected by a virus, the virus may access and use some files in your USB device in the background. You can make use of Windows Defender or some third-party anti-virus software to run a virus scan on your Windows computer. This is because if your computer is invaded by the virus, it may the USB files in the background. After running the scan, go to check if the USB can be removed.
Fix 3. Use Device Manager
Try the Windows Device Manager to eject the USB storage device.
Click Start > type device manager and open it > expand Disk Drives. Find the USB you want to remove, and choose Uninstall device from the right-click menu.
Fix 4. Use Disk Management
Windows Disk Management allows you to manage all drives that are connected to your computers, like local hard drive, external hard drive, USB drive, and SD card.
Type diskmgmt.msc in Run windows, and then enter Disk Management.
Select the USB drive you want to remove. Right-click it and choose Eject. Thus, you can eject it from Windows computer safely.
Fix 5. Eject USB by This PC
This is an easy and direct method. Open This PC and find the target USB. Right-click it and select  Eject option.
Effective Way to Recover Lost Data from USB on Windows
If you have ejected the USB storage device improperly and data disaster has occurred, you may try MiniTool data recovery software to help you rescue lost data from USB on Windows.
This free file recovery software allows you to recover lost data from not only computer local drive, but also USB flash drive, external hard drive, SD card, and more.
Just download and install it on Windows 10/8/7. Follow these 3 steps to achieve lost data recovery from USB.
Step 1– Plug in USB and Run MiniTool
Connect the USB drive to Windows 10/8/7 computer. Open MiniTool Power Data Recovery software to enter the main interface.
Step 2– Scan the USB Device
Select the Removable Disk Drive module. Pick up the target USB drive to scan for the lost data by clicking the Scan button.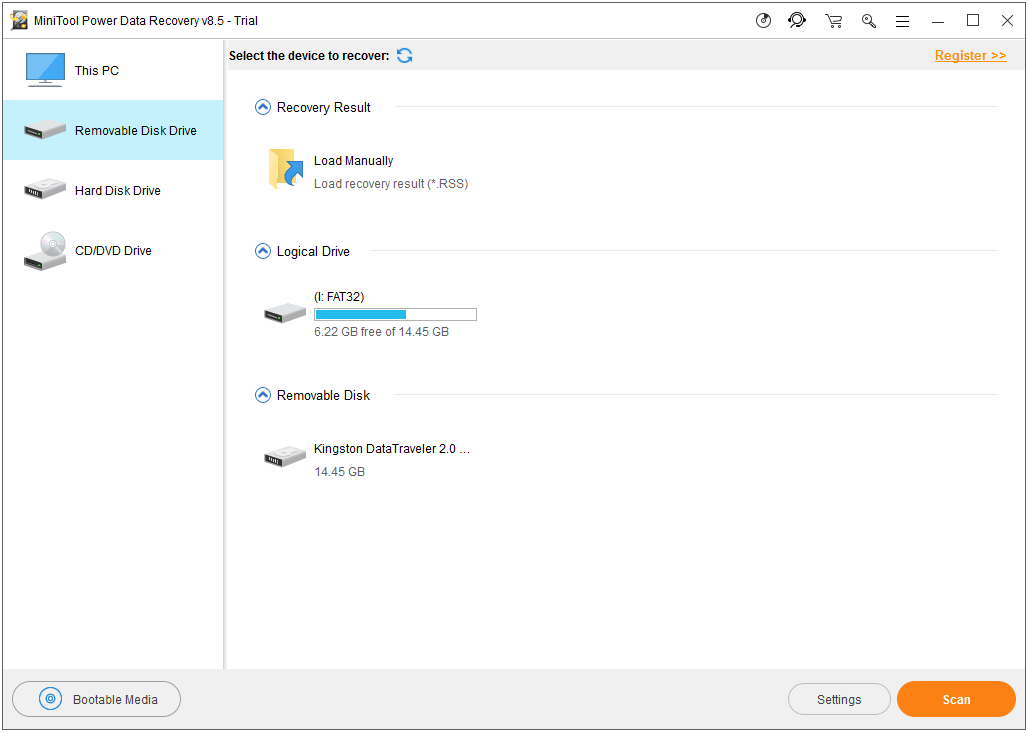 Step 3– Find Needed Files to Recover
After the scanning process comes to an end, you can check the result list to find the needed files. Then, click the Save button to appoint a new drive to store the recovered files.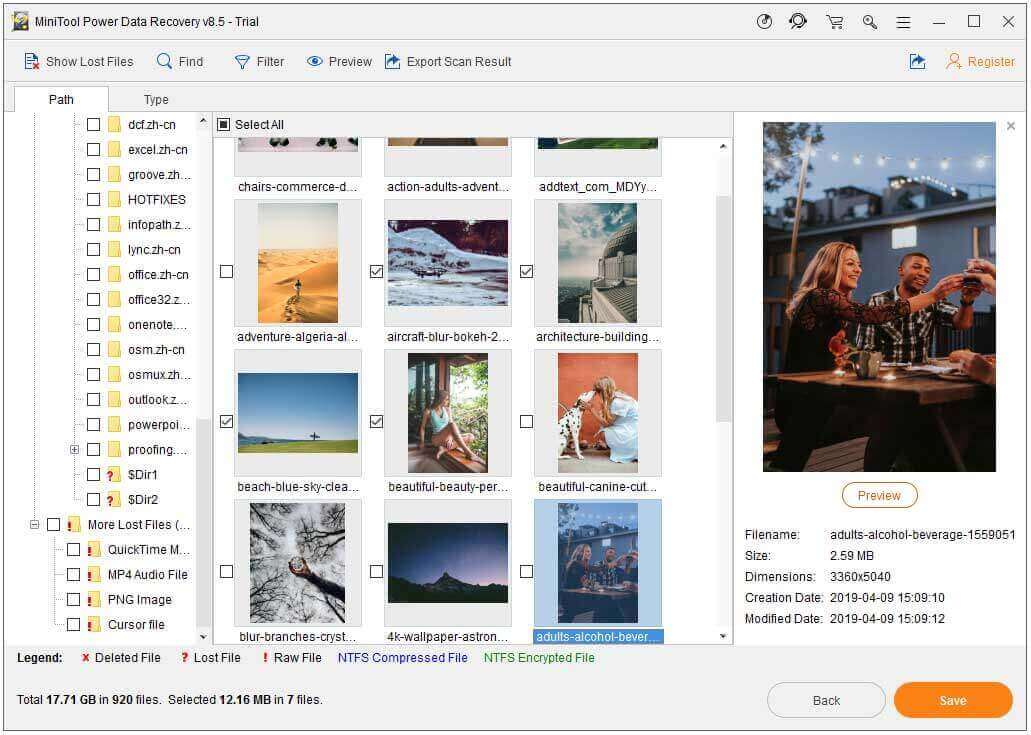 Pay Attention:
⑴ The destination for keeping recovered files should be different from the original location. Otherwise, lost data in the original location may be overwritten and get unrecoverable.
⑵ You'd better not add new items to the USB drive after data loss for a fear that new items would cover the lost data, which may lead to lost data unrecoverable.
In summary, you can choose a preferred method to deal with the problem ejecting USB mass storage device in Windows and recover lost data from USB in case data loss disaster happens. To protect your data better, it is necessary to install a reliable data recovery program.
T